The project layer is about planning, budgeting, monitoring and the governance of software development projects and software maintenance organizations.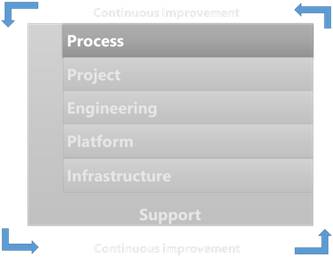 In the process layer the model makes a distinction between Methodology, Guidance and Roles & Responsibilities.
Capability maturity Assessment
The following should be considered when assessing an organization's capability with regard to process.
Methodology
Common public methods are  an integrated part and cohesively applied within the development environment.
These methods are aligned with the organization of the development organisation and production process.
Guidance
For the selected methods support is unequivocal available and accessible in the form of documentation, coaching, etc.
Roles & Responsibilities
Roles and responsibilities within the method based production process are described and assigned.