The support layer is about the supporting activities which facilitate the software development and maintenance activities. These activities include among others project on boarding, training. But also the design and construction of project specific ALM tools.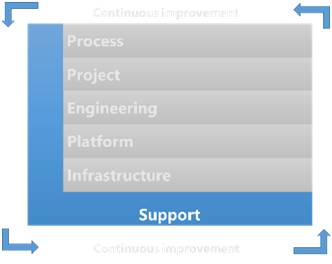 But the support layer is also about all the activities required for the application life cycle management of the software assembly line itself. These activities include the structural improvements required to attain the organization's assembly line's future ALM vision based on the changing business requirements and the technological advancement.
In the support layer the model makes a distinction between   Benchmarks, Training, Project Support, ALM Change Management and Knowledge Management.
CAPABILITY MATURITY ASSESSMENT
The following should be considered when assessing an organization's capability with regards to support.
Training
Training is available for all focal areas of the software assembly line.
The Methods, Techniques, Tools and Rules for all focal areas are described and available.
Project Support
A service desk is available where users of the software assembly line can get support regarding their daily work.
A process is in place which collects project information to enable the proactive coaching of the projects using the software assembly line.
The improvements proposed for the software assembly line are based on benchmarks.
ALM Change Management
A change management process is in place to govern changes in the ALM tooling provided by the software assembly line.
Policies and principles are in place to guide and constraint the selection of ALM tooling.
Knowledge Management
Knowledge about, experiences with and best practices regarding the usage of the software assembly line are documented and shared.
Benchmarks
Effective and efficiency of software production is measured continuously and the measurements are reported through benchmarks.